HELP US SPREAD THE WORD BY LEAVING A REVIEW
Your kind words help us help others.
If you LOVE your rebounder or have enjoyed your experience with our staff, please select one or more of the review sites below, and tell us about it! It only takes a few minutes, and we appreciate your feedback.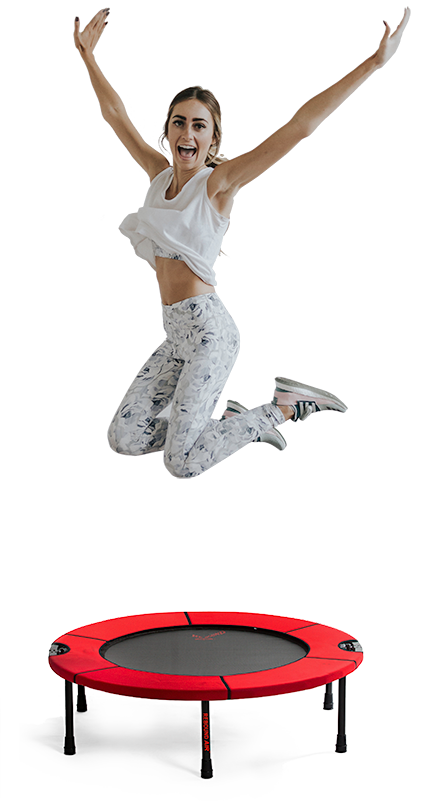 WE LOVE OUR REBOUNDAIR FAMILY
It's wonderful!!! I LOVE it!!! I'm so pleased to have this great way of exercising right in my own home, and I'm REALLY glad I have the easy-to-use half-fold. Thank you SO MUCH for your patience and help with the whole process of getting started; you have my sincere gratitude both for your helpfulness and for the rebounder itself. I know I'll get a lot of use out of it, and my health, spirits, and fitness levels will all benefit. THANKS again for service and kindness above and beyond the call of duty
Your customer service is outstanding and we have been so well taken care I just wanted to say thank you! Plus we love our ReboundAir. We use it daily and have felt a significant boost to our health. Faster recovery from workouts or injuries, staying healthy throughout flu season..again and weight has dropped a bit. Plus we both sleep better and more deeply. Cannot say enough good things about the rebounder and your company.

Thank you,
Hi Darren, I'm another HUGE fan (get it?) of Biggest Loser and started doing workouts with your mini-trampoline after watching it on the show. It's such a fun way to exercise and with the right moves can be such an effective workout.
I'm a previous owner and facebook fan. I recently gave it to a friend [Quarter Fold ReboundAIR], and am now ordering a new one. Love it!!!
I can't thank you enough for this exciting, fun way to exercise! It has turned something that used to be drudgery into something I look forward to every day. Through combination of diet and exercise, I have lost 23 pounds and two clothing sizes
I started rebounding 28 days ago. My immune system was so shot and I was tired of being tired and sick. I started with the gentle "health bounce" for 15 min in the morning and 15 min in the evening. I also began a sensible diet to help cut down food allergies etc. My main objective is to get my lymphatic system moving and find some type of exercise I could do without re-injuring my knee (I had the ACL replaced back in 93 and I tore the cartilage off the bone, so no more running or much of anything without severe pain and bleeding in the joint!) so, needless to say, I have been desperate to find an exercise I could do that wouldn't irritate the bones in my knee.
I began to lose weight immediately! Muscle tone, improved breathing, no more ear aches or sore throats and my allergies are clearing up!!!!! WOW.
I'm up to 38 min in the am and I do about 15 at night. I decided to look up rebounding on the web to find out more about it-need I say more? I found the ReboundAIR™ and ordered the book and a video for myself and one for my children.
I've been using the "Keep on Rebounding" video for about 2 weeks. I have lost a total of 15 lbs. since I started. I'm toned, slim, my skin is clear and glowing. I still haven't gotten all the moves down in the video, but my knee has strengthened enough to keep my balance and I can at least keep going to the end. My mom started about a week ago and my HUSBAND started about 3 days ago.
I haven't had any pain, I love the results and I'm thinking about getting certified in reboundology and putting an ad in my children's school handout to teach anyone else who wants to learn. It's amazing. I am very excited about this and I love my Quarter Fold ReboundAIR™, it's so much nicer than the one I picked up at a 2nd hand sports place. Even less impact on my knee and joints. I could add a list of things that have improved, but I figure this is long enough.
Thanks for a great product and for a great video!
Rebounding can provide a scientifically sound workout for cardiovascular improvement and weight management.
…she [nurse practioner] couldn't believe my age. She said, 'you have the bones of a 17 year old!' The reading was done with a Sahara Clinical Bone Sonometer and measured a T-score of 2.8. Pretty amazing for someone my age. I'm sure that this test was a result of my exercise on a rebounder, my eating habits and good mental health. Thank you Al for all your research and dedication to this form of exercise. It works wonders if you work at it.
What is my primary objective? Weight loss, tone, and a change in my exercise routine. It's a fun way to make sure I get some aerobic exercise every day. …I also like the idea of being able to get a good aerobic workout indoors without going to the gym. I have a treadmill but it's so boring!
Right now I rebound three days a week, will work up to five or six. 20 minutes at a time, again, I will work my way up to a longer period of time. My objective is to lose weight and tone. I used my rebounder about 13 years ago to lose 40 pounds, therefore, I know it works (along with dieting). I have a free gym membership through my work, but I choose to use this method of exercise instead because I can use it in the privacy of my own home and it's fun.
My name is Ray Koncsol. I'm a 62 year old gentleman that was diagnosed as having Muscular Dystrophy in 1976 in Pittsburgh, Pa. In 1981 I retired in Florida and weighed about 225 lbs. In 1983 I bought the book "The Miracles of Rebounding" and my first rebounder. I have kept your book at my bedside for many years and have read it so much that I have had to use tape to keep it bound together.

Over the years my rebounding has gone from 45 minutes a day to nothing. Sometimes when I got really lazy and would not rebound for a long time, my mobility would get so bad that I could hardly walk without looking like I'm going to fall over any minute.
Other times when I was on a streak of consistent daily exercise I would walk so normal that when I would tell people that I had MD they would say they hadn't noticed anything in my walking.

What I'm trying to say is that I have to sincerely say that I believe that rebound exercise has kept me out of a wheelchair for the last 18 years or at least the last 5 years. I have a record of every jump I've ever done on a rebounder kept in annual diaries and I can look back and tell the good years from the bad years according to how much time I spent on the rebounder.

I have to put my rebounder in the hallway and hold onto the door jambs because my balance is not so good but right now I'm back to rebounding almost daily ( I've rebounded 93 out of the last 96 days ). I have atrophy in the front of my ankles so even when I'm doing the strength bounce my toes will not leave the mat but I do the best that I can. Over the last 3 months, I've sometimes rebounded for 30 minutes a day and sometimes for over 50 minutes a day. I've made a promise to myself that I'm going to do at least something every day no matter what.

I now weigh about 185 lbs and would like to lose about 20 lbs in the midsection and have that as my goal over the next year. My main goal through rebounding to make myself a productive person as far as income is concerned so I'm not a burden to my son or my family. I would like to become a member of your organization but will have to wait until I can get the funds together to get one of your units. I came across your website last week and have spent hours looking at everything I could find on rebounding.

It's really nice to see how rebounding may finally get the recognition that it certainly deserves. I hope I can be a part of introducing the best exercise known to man to a truly uneducated public. I wanted to write and thank you for what you introduced back in 1979 because as I said before…….I would be in a wheelchair if I had not read your book and started rebounding.

Thanks a Million ! ! !
Thank you for our pleasant conversation yesterday. I just wanted to take a moment to reiterate some of the reasons I'm truly enjoying the rebounder your company makes.
As I mentioned, my wife purchased a ReboundAIR™ through Ariel Moss, a personal friend of ours for many years, after her enthusiastic recommendation. When it arrived, I liked the construction of it, and knew it was a serious piece of exercise equipment that was well designed. I read the book my wife also received (The New Miracles of Rebound Exercise) and was quite impressed with the data presented by Mr. Carter. After watching the video ("Keep on Rebounding"), I was hooked. That was 3 months ago; now my wife can't get me off the thing!
As a physician, I'm aware of the problems of degenerative diseases and the new information attempting to help us all achieve healthy aging. Diet, exercise, and nutritional supplementation seem to be an important part of this equation. What I like most about the rebounder is the fact that it's regular use can help maintain muscle mass, bone density, aerobic capacity, balance, cardiovascular fitness, and reduce insulin resistance – all of which become problematic as we age. Additionally, it's easy and pleasurable to use, has no parts to essentially break down, is portable, and most important of all, quiet (I have to exercise very early in the morning before work, and I can use the rebounder easily without waking the whole house.)
It's the first type of exercise that I've been able to consistently use every day as part of my overall health routine. Since beginning, I've noticed improved stamina, overall strength, balance, flexibility, decreased stress, and better sleep – all without stress on my joints. I have even knocked several strokes off my golf game!
I have owned a NordicTrack, and a treadmill, and done cycling, swimming, and jogging, and used gym equipment; this far exceeds the benefits I received from those types of exercise. Adding a light weight routine a few days a week while jogging on the rebounder rounds out a perfect regimen for me that only takes me about 25 minutes daily.
I'm truly delighted with the quality and design of the rebounder, and I appreciate all of the research and time your company has put into producing such a quality exercise aid. Thank you.
p.s.- thank you for sending me the tape and book, as my wife plans to take hers with her when she travels.