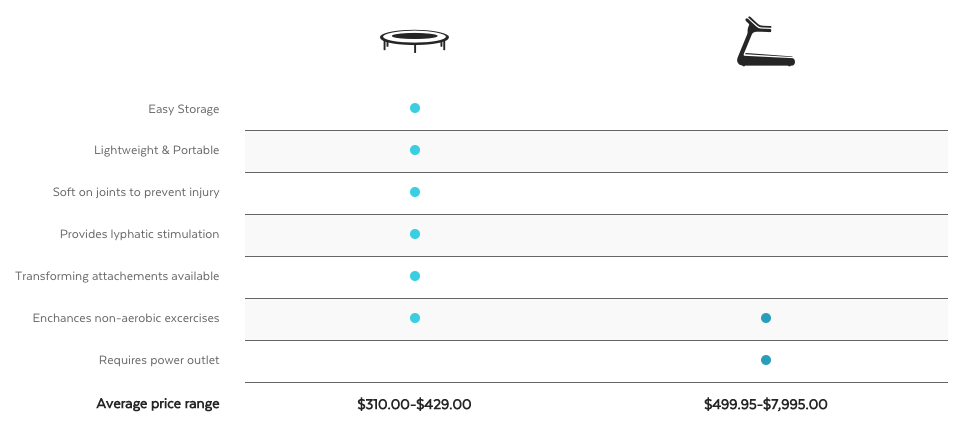 HOW WE MADE THE COMPARISON
Why are we even comparing these two products, you may ask. Rebounding is often overlooked as a form of exercise maybe, because they are not covering the field of view as you enter a gym. Just because you see the treadmill first, doesn't mean it is actually the best machine for the job. You have to ask yourself, what are you trying to accomplish?
The most common claim to fame for the treadmill is that it is a "good alternative to outdoor jogging." The next is that it provides "variable speeds and inclines" allowing for you to customize your, now indoor, run. If altering one exercise is what you are looking for a treadmill does the job, but how much do you want to invest in one exercise? Rebounders not only provide the ability to perform various aerobic exercises such as running in place and jumping, non-aerobic exercises such as push-ups and crunches, it enhances the rewards. Rebounding allows you to set your own pace according to your physical condition. Following the "Keep on Rebounding!" video, approximately 300-350 Calories are burned. A treadmill varies between approximately 8 mph to 12 mph maximum preset speeds averaging 300-350 Calories per 5K (3.17 miles). Most treadmills do not come with upper body workout attachments. The use of hand held weights while exercising on a treadmill is possible but discouraged. Hands must remain free to grab the cross bar to
prevent falling. Rebounding encourages simultaneous upper body exercised. This is called "Aerobic Resistive Rebounding." Inexpensive hand held weights are an effective way to improve upper body tone. These are available in our on-line catalog.
Keeping your hands free is not the only worry that is present in treadmills that are not in rebounders. Incorrect use, over-use, or the occasional accident on a treadmill can result in bad falls resulting in skin abrasions and contusions, shin splints, and chronic joint problems are also common. Children should not be allowed near the treadmill while in use! Not for many people with disabilities. The use of a ReboundAIR™ poses no pattern of harm. High-end rebound exercise equipment is commonly used in physical therapy clinics and recommended for patient in-home use. People of all ages, from the toddler to the elderly, absolutely love to exercise on a ReboundAIR™. "Safe and effective," say the Journal of Cardiopulmonary Rehabilitation.
Rebounding continues to impress. Many people rave about the Lymphatic stimulation and improved balance and coordination they have gotten from rebounding. The biggest comments we have heard are: "Fun way to get fit!" and "Low level of stress to the joints."
The thing that first struck me when I pulled it out of the box is the quality of it. The workmanship is top notch. I would like to add that a feature I didn't notice your website mention is the fact that no assembly is required. Just unfold and you're ready to jump to it. Again, thank you for your high quality product and the free gifts.